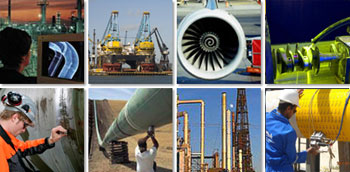 HI-TECH NDT Training Institute is an industry oriented training center which recognizes the importance of the well trained man power in effective implementation of appropriate nondestructive testing techniques, Welding Inspection, API Inspection. This institute caters to training requirements of engineers, supervisors, Welders, Fresh Technical Student & NDT operators in the field of anufacturing and In service Oil & Gas.
The faculty consists of well-qualified and experienced personnel.
Rajesh G. Ahire, ASNT Level-III (UT, RT, PT, MPT) , API 510 (Authorized Pressure Vessel Inspector) and PCN/ISO/EN Level-2
Having more than 14 Years Experience in NDT , Welding inspection and as Trainer. He is professional and corporate member of The American Society for Nondestructive Testing.
Training Courses we Offers :
ASNT NDT LEVEL-2 & 3
API 510 ( Authorize Pressure Vessel Inspector )
API 570 ( Authorize PIPING Inspector)
API 653 ( Authorize Above Ground Tank Inspector)
AWS CWI
CSWIP
ISO 9001:2015 ( Internal & Lead Auditor Course )
Services we Offer :
All type of NDT Inspection
API 510, 570 & 653 Inspectors Services
ISO 9001:2015 (QMS) Consultancy
ASNT Level-3 Services